Masih ingat dengan lagu Ice Ice Baby dari Vanilla Ice?


watch the video here
Atau dansa-dansi sejuta umat Macarena?


watch the video here
Atau Right Said Fred I'm Too Sexy, Afroman Because I Got High, Baha Men Who Let the Dogs Out, Blind Melon No Rain, Deep Blue Something Breakfast at Tiffany's, juga yang lawas macam The Knack My Sharona, Nena 99 Luftballons, a-ha Take On Me, dan banyak lagi.
Fenomena artis yang bersinar cuma lewat satu lagu setelah itu kilapnya perlahan redup lalu sirna sama sekali, gejala macam begitu di industri musik diistilahkan dengan: One-Hit Wonder.
Secara ilmiah Wayne Jancik dalam bukunya "The Billboard Book of One-Hit Wonders" yang terbit pada 1998 mendefinisikannya sebagai artis yang pernah satu kali meraih ranking tinggi—masuk jajaran 40 lagu terpanas—di chart musik pop di Billboard.
an act that has won a position on Billboard's national, pop, Top 40 just once
Saking konservatif pendeskripsian oleh Jancik sampai-sampai figur sekelas Janis Joplin (lewat lagu Me and Bobby McGee) dan Jimi Hendrix (via All Along the Watchtower) sekali pun tetap digolongkannya sebagai One-Hit Wonder (!) padahal seperti kita semua ketahui Janis dan Jimi jelas-jelas merupakan artis legendaris. Tak cuma secara aktual eksistensinya dihormati seluruh dunia, pun secara faktual masuk dalam daftar adiluhung "US Rock and Roll Hall of Fame" serta meraih "Grammy Lifetime Achievement Awards."
Sementara di Inggris artis-artis yang dikategorikan sebagai One-Hit Wonder adalah mereka yang tembangnya sempat bertengger di Top 75 UK Singles Chart.
Istilah One-Hit Wonder sendiri pertama kali diperkenalkan di buku "The Guinness Book of Hit Singles" pada 1970-an dan artis yang memperoleh "kehormatan" sebagai figur One-Hit Wonder adalah jika lagunya pernah mencapai nomer 1 dalam klasemen, setelah itu tak pernah lagi, selamanya.
a number one hit, and then nothing else, ever
Definisi di atas kerap disebut sebagai "true" One-Hit Wonder, yang sebenar-benarnya.
Di era sekarang pemahaman tentang One-Hit Wonder telah makin melebar. Artis yang sempat ngetop dengan satu lagu (walau tanpa pernah masuk chart tertentu), tak cuma di ranah Pop, otomatis dijuluki sebagai One-Hit Wonder. Iya, bahkan di jazirah, let's say, Death Metal sekali pun pasti ada band One-Hit Wonder…
Berikut 10 Teratas dari daftar "100 Greatest One-Hit Wonders" versi VH-1:
Los del Rio Macarena (1996)
Soft Cell Tainted Love (1982)
Dexys Midnight Runners Come On Eileen (1982)
Right Said Fred I'm Too Sexy (1992)
Toni Basil Mickey (1982)
Baha Men Who Let the Dogs Out? (2000)
Vanilla Ice Ice Ice Baby (1990)
a-ha Take On Me (1985)
Gerardo Rico Suave (1991)
Nena 99 Luftballons (1984)
Nah, kalau yang ini bisa jadi sejawat sekalian sudah lupa: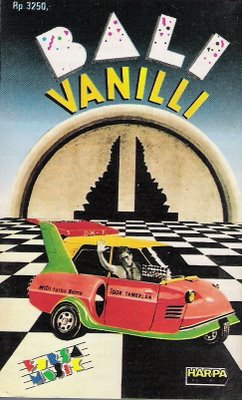 Beneran lupa? (Atau gak tau karena belum lahir? Hiks) Itu adalah album rilisan 1991 oleh Igor Tamerlan dengan tembangnya yang sempat mahsyur ke seluruh penjuru negeri, Bali Vanilli.
Igor, di satu sisi, bisa dimasukkan ke dalam kategori One-Hit Wonder. Namun, di sisi lain, well, tidak juga. Sebab tercatat hingga 2005 Igor masih aktif melahirkan karya lewat album berisikan 10 lagu, Bali Ethnicity.
You tell me.
__________
*Artikel ini pertama kali saya tayangkan di Musikator pada 20 Maret 2009