Tonite! Wednesday, November 10, 2010; 8-10 PM
R-n-R Exhibition [mini version]: SAMACK
The Self-Destrukt Hit List
:: Introduction, playlist and photos, written and handpicked by Samack Himself ::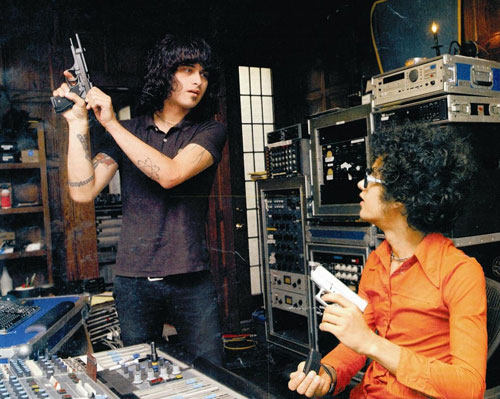 The Mars Volta
Terus terang, ternyata tidak mudah bikin list yang berisi singel-singel favorit dari bermacam band. Setidaknya itu berlaku bagi saya, yang cenderung lebih mengapresiasi sepaket album daripada butiran lagu. Jika saya malas dan putus asa, mungkin list ini akan berisi semua lagu dari tiga album awal Metallica, atau semua lagu dari album The Wall-nya Pink Floyd, atau semua track yang ada di Mellon Collie and The Infinite Sadness-nya Smashing Pumpkins. Tapi syukurlah hal itu tidak saya lakukan, karena pasti dianggap menyebalkan di mata sang empunya program ini…
Akhirnya, saya sempatkan membongkar file dan rak untuk mencari (kembali) lagu-lagu yang saya suka dan gilai selama hidup saya ini. Proses hunting lagu ini saya lakukan dalam tempo yang sesingkat-singkatnya. Jadi saya yakin pasti ada beberapa lagu yang luput dari memori dan pantauan. Tapi biarlah. Saya coba trik sederhana; konon jika hunting dimulai dari band favorit, lalu menuju ke album favorit, biasanya akan sampai pada satu lagu yang paling favorit juga. And it really works for me.

Hasilnya sekarang ada 33 lagu yang saya susun secara acak—kecuali lagu pertama dan terakhir yang saya desain supaya tampak seperti 'live', haha… Beberapa lagu memang memiliki histori dan cerita spesial, sebagian lagi saya pilih karena musiknya emang keren aja dan bikin saya bersemangat.

Oya, list lagu ini kebanyakan emang cadas dan 90an sih—tapi selalu ada ruang kok bagi lagu-lagu yang pop dan lembut, dari jaman lawas maupun era kekinian. Sekalipun saya saya cukup terbuka pada segala jenis musik, toh saya masih bangga menyebut diri saya sebagai seorang metalhead.
Eits, metalhead?! By the way, saya mungkin orang yang paling durhaka pada root metal. Sebab, sejujurnya saya tidak pernah benar-benar terpukau pada Sabbath, Motörhead atau Slayer yang sering diagung-agungkan oleh banyak kawan saya itu. Jadi tiga band supermetal itu tidak ada dalam list ini. Jadi silakan menggugat kadar ke-metal-an saya hari ini…

Well, menyusun list seperti ini ternyata menyenangkan dan seperti berbagi pengalaman. Duh, rasanya sebentar lagi saya akan kecanduan untuk menyusun list atau malah nekat bikin mixtape. Tapi please, jangan tanyakan lagi apa playlist saya ketika menyusun list ini…
Plug. Play. Enjoy.
The Playlist:
01. (Churchill's Speech) Aces High – Iron Maiden
02. Cendawan Kuning – Godbless
03. The Thing That Should Not Be – Metallica
04. Scapegoat – Fear Factory
05. Mothra – Godflesh
06. Stinkfist – Tool
07. Lucifer Sam – Pink Floyd
08. Trust – The Cure
09. Try Try Try – The Smashing Pumpkins
10. Baba O'Riley – The Who
11. The Pliable Foe – Isis
12. Veil of Maya – Cynic
13. Urban Discipline – Biohazard
14. Davidian – Machine Head
15. Blood and Thunder – Mastodon
16. Future Breed Machine – Meshuggah
17. A Horse Called Golgotha – Baroness
18. Son The Father – Fucked Up
19. Look Into The Air – Explosion In The Sky
20. Kids Are United – Atari Teenage Riot
21. Born To Party – Municipal Waste
22. Copernicus – The Mars Volta
23. Don't Look Back – Kylesa
24. A Sun That Never Sets – Neurosis


25. When Freedom Dies – Nuclear Assault
26. D.N.R. (Do Not Resuscitate) – Testament
27. No Love Lost – Carcass
28. Love Nation Sugarhead – Pyogenesis
29. Here We Are Juggernaut – Coheed And Cambria
30. Beat It – Michael Jackson
31. Where The Street Have No Name – U2
32. Teen Angst – M83
33. Hurt – Nine Inch Nails
Full story and complete descriptions coming soon!
» Radio streaming live http://army.wavestreamer.com:6356/listen.pls
___________________
The Block Rockin' Beats
Curator: Rudolf Dethu
Every Wednesday, 8 – 10 PM
The Beat Radio Plus – Bali, 98.5 FM
120 minutes of cock-melting tunes.
No bullcrap.
Zero horse shit.
Rad-ass rebel without a pause.
Shut up and slamdance!